Meet Central Europe 2018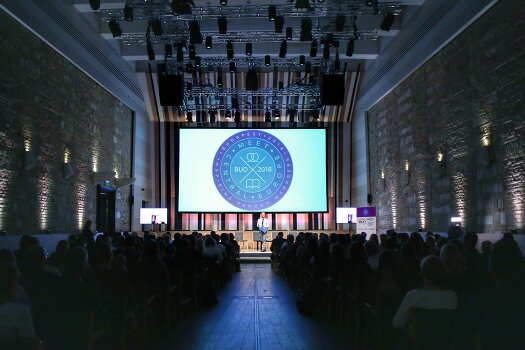 Our participation at Meet Central Europe 2018 – the trailblazing international conference of central and eastern European translation agencies and translators
At the end of October we set off for the conference Meet Central Europe, which took place in Budapest. This was the inaugural meeting, convened under the auspices of 4 independent central European translation agencies from Austria, the Czech Republic, Hungary and Slovakia (AATC – Austrian Association of Translation Companies, ACTA – Association of Czech Translation Agencies, ATCSK –Association of Translation Companies of Slovakia and Proford – Hungarian Association of Professional Language Service Providers). The conference was held in the state-of-the-art spaces of the Budapest Music Center (BMC).

The primary focus for the conference was vendor management, i.e. working with translators and interpreters. Searching for, verifying the qualifications of and testing suppliers represents a significant investment for most language service providers, and it is a very important part of our work. Experienced, qualified, technically trained and motivated translators are the cornerstone and valuable resource of every translation agency. We are interested in management systems and the latest trends in this important area, and so—represented by Purchasing Manager Zdenka Moravcsiková on behalf of our supplier team—we eagerly threw ourselves into the lectures.

All translation agencies, be they large or small, have to deal with similar issues, including, among others, quality, processes, evaluation and feedback. After taking part in the lectures, Aspena was reassured that its processes—set up according to the ISO standard—are at a very high level. Nonetheless, we've brought back from Budapest inspiration and ideas how we might engineer further improvements to our procedures.

Discussion also centred on the topic of post-editing machine translations (a specific service during which a translator, or post-editor, checks and modifies a machine-translated text. The post-editor works with the original text in order to understand the meaning, and must therefore have a superior knowledge of both languages. The final text is comparable in quality with a classic translation from a professional translator). As a translation agency, this presents us with an enormous challenge—as it does individual translators.

Another conference issue was working with machine translation (MT) itself. The discussion on MT was joined by our executive director Jakub Čapek. Machine translation has been around on the market for a few years now, and every translation agency has been getting to know and testing the technology, with decidedly mixed results. Machine translation is only suitable for certain types of text and languages, which made it all the more interesting to discover how translation using MT has advanced. Our company is very traditional in this regard, and emphasis on quality work produced by a "flesh and blood" translator is the foundation of what we do. In spite of which, in order that we can keep up to speed with new trends in the sector, and to ensure that our development department's work with machine translation is headed in the right direction, we are convinced that the possibilities offered by MT in our field simply must be tested.

Use of the Whova application proved extraordinarily effective: it kept track of the program, enabled us to set up simple meetings with other conference-goers, post ads for translators and other vacancies, and share conference photos, etc.