What is necessary for simultaneous interpreting?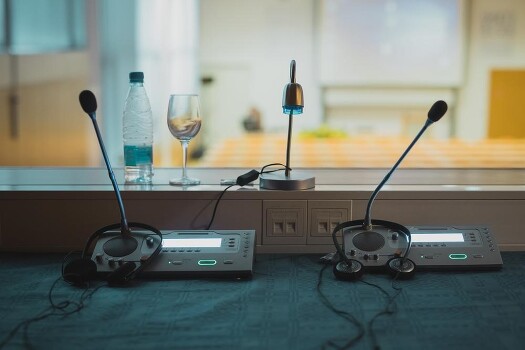 Are you organizing a major event attended by people speaking different world languages? Then you will most likely also have to arrange for simultaneous interpreting so that the listeners understand all the information presented by the speakers. If you wish your event to be perfect, you will need to put all items correctly together, starting with the number of interpreters and ending with a reliable sound operator. What do you need to ensure for simultaneous interpreting?
Where is simultaneous interpreting indispensable?
What is simultaneous interpreting and how to distinguish it from consecutive interpreting were both explained in the article titled Simultaneous versus Consecutive Interpreting. It is used especially in events with a large audience speaking different languages. Typically, these are conferences or specialized workshops or symposia. For such events it is necessary to book interpreters and all the necessary interpreting equipment as well as someone who takes care of all the technical aspects.
How many interpreters are needed and what will they need for interpreting?
Simultaneous interpreting is a very demanding profession, mentally in particular. Heavy demands are placed on interpreters in terms of preparation, the cultural and historical settings of the country, and absolute concentration in the first place. And the absolute concentration on interpreting is the reason why two interpreters per language interpreted are a common standard.
You may think that these are unnecessary extra costs, but this investment is worth it, or rather it is more than necessary. Surely you don't want your audience to miss any important information and to have a good feeling about the event.
The interpreters take turns at intervals up to 30 minutes, but don't you think that one of them is only resting during the break. They have to keep up, watch and listen to speakers or take notes. For their convenience and good performance they also need a good background.
Interpreter booth and technical equipment
In simultaneous interpreting, each language needs one booth shared by the pair of interpreters. The booth must contain a table and chairs as well as a tabletop interpreting unit consisting of a console with a headset and a microphone. The interpreter receives the original speaker's language from the headphones and interprets into the microphone for the audience. In addition, they can control the speaker's voice volume and other parameters on the console.
There are two types of interpreter booths. The first one is a tabletop booth, which is small and portable and can be handled by one person. As it is open in the back, it is not fully sound-proof, so selecting where it will be located is very important. It is best to place it against a wall or places where event participants do not enter, which ensures a quiet place for the interpreters to work.
Unlike the tabletop booth, the full-size interpreter booth is completely sound-proof. It is a standalone unit entered through the door, and often also has its own ventilation. Its installation and handling are more time and space-consuming.
A very important aspect of interpreter booth installation is a good view of the speaking area and the audience as well as the projected presentation, if any. The interpreters may have screens installed in the booth to watch the slides, but the view of the big screen makes their job easier. And why is it important to see the speaker? This is in case the speaker refers to something specific in the presentation or demonstrates something – the interpreter can easily lose context without the view.
Interpreting equipment for speakers and listeners
Top-quality equipment should also provided for the convenience of speakers and listeners. Speakers need microphones transmitting sound into the interpreters' headphones. Their selection should be based on the form and duration of their speeches. Will they be sitting or standing on the stage for an hour? Is there one or more speakers? Will they speak one after another, or take turns alternately?
Depending on these clues, the right speaker microphone should be selected. When using a classical handheld microphone, for example, there is a risk that with the diminishing speaker's energy their voice is hardly audible as the speaker does not keep the microphone at the right distance from their mouth all the time, which can make the interpreter's work difficult. That is why a head microphone or a flap microphone is more appropriate. The listeners must have a multi-channel pocket (bodypack) receiver available. This device enables the listeners to select the required language channel.
Is any other equipment necessary?
Yes. If the listeners get the floor for questions, there must be multiple portable microphones available as well as assistants to distribute the microphones. Additional devices needed in simultaneous interpreting include an IR transmitter transmitting the signal to the bodypack receivers, a central unit interconnecting the interpreter booth with speaker microphones, loudspeakers, and sound systems for larger halls. The technical equipment should be operated and kept in running order by an experienced operator.
Do you have to get all this interpreting equipment by yourselves?
Organizing a conference or a similar major event is a big challenge in itself. If simultaneous interpreting is also needed, the time, energy and costs expended may seem as unsurmountable as Mount Everest. Another thing to consider is that the devices provided by yourselves might not be compatible – and now imagine, God forbid, finding this out on the day of the event!
So do not hesitate to contact a professional translation agency that has a good grip on interpreting and interpreting equipment. Our team will create a non-binding offer based on your requirements, and if you are satisfied with it, provide comprehensive interpreting services.