Brno-based TESCAN growing thanks to Aspena's fast and reliable translations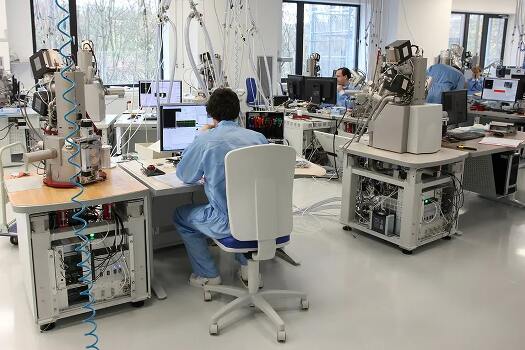 TESCAN was founded in Kohoutovice, Brno by former developers and service technicians of TESLA microscopes. They wanted to continue the tradition of electron microscope production in Brno. Since developing the first PROXIMA instrument, the company has expanded to an annual turnover of 2 billion CZK, with 95% of their production exported to customers all over the world. TESCAN microscopes help universities, research centres, and industrial and manufacturing companies every day.
Stable translation services that can be relied upon
Before TESCAN started working with a translation agency, technical documentation for their microscopes was translated by distributors. But despite applying the correct terminology and effectively localizing texts for each country, they lacked the time for such translations.
"We needed translations we could rely on. That's why we asked an agency. The people from Aspena were very nice, we liked the fact that they were based in Brno like us, and compared to other agencies, they offered the lowest price," explains Ivana Šplíchalová, technical writer at TESCAN Brno, s.r.o.
Based on the request, Aspena took over translation of:
control software, including user help, which operates the microscope,
and user documentation, in both hard-copy and software format.
Specific texts were requested by TESCAN in German, Chinese, and other languages.
Translation of software in a specific format, including error-free terminology in 10 days
TESCAN expected translators to deliver on time and to be grammatically and terminologically correct. "We were concerned that an agency couldn't handle the highly specific terminology we use in microscopes. In the end, we asked Aspena to produce multiple language versions of the documents, and together we created term glossaries in German, Chinese, and other languages. They were then revised by our distributors," Ivana Šplíchalová describes the pleasant surprise they felt at finding a solution.
In addition to terminology requirements, TESCAN needed to translate the control software in the special .TS format. In this format Aspena:
acquired the documents,
converted the texts,
translated them, and finally
returned the documents to the client in the same format.
The entire translation and launch of the software in these other languages took 10 days. Within 2 months it was up and running, including the software's user help.
The next step in the order was to produce user documentation in hard-copy and the software format .LIPRJZIP. Here, the translation work was more time-consuming. Today, the Brno technology company is continuing to get new translations into an expanding range of languages.
"When communicating with Aspena, we're constantly amazed by their speed. I deal with Eva Prokopová, who responds to our inquiries immediately and sends us quotes straight back. In addition, they have translations ready in record time. I translate our technical documents into Czech, and even though I spend 100% of my efforts dedicated to the translation, Aspena beats me to it – getting the same document ready in another language in less time. And they even manage to both translate and check the text," laughs Ivana Šplíchalová. She also appreciates the possibility of a quick meeting or call to discuss the assignment and technical details.
Translations have won more tenders and brought more satisfied customers
Thanks to additional language versions, TESCAN is participating in more tenders worldwide and end customers are praising the texts in their native languages. "We're constantly updating and expanding our documentation and inspection software into new languages, which opens the door to the entire global market and increases our sales volume," says Ivana Šplíchalová.
Looking ahead, TESCAN plans on continuing to use Aspena's services and to expand the user documentation and control system into other languages.