another "For a long time now, translation has been more than moving words from one piece of paper to another," declares the director of our Bratislava branch. Read more in his interview.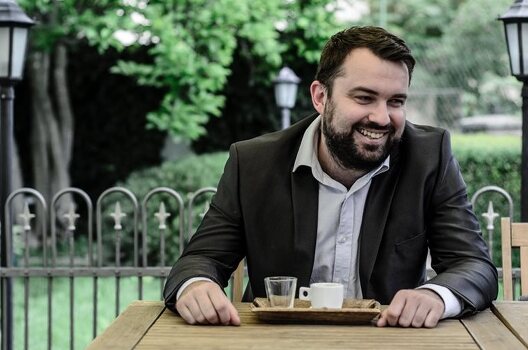 "For a long time now, translation has been more than moving words from one piece of paper to another. Current trends include CAT tools, machine translation and post-editing, and also the use of server solutions," declares the director of our branch in Bratislava. Read more in his interview.
You've now been working for two years, Jan, as the director of Aspena's Bratislava branch. Can you still remember your first day at work? What were your expectations?
Of course I can remember. I love working at Aspena, so that day was a really important day in my life. I had very big expectations. I was determined to have a fundamental impact on the course and strategy of the Slovak part of Aspena, and of course drive it forward.
What about Aspena appealed to you?
It started right from moment I came into contact with the company. Straight away, I knew that I wanted to work here. Aspena has enabled me to realize my vision and my strategic plans in the field of translation, interpreting and localization. What also appealed to me was the comprehensive range of languages on offer—translations into English or German are the tip of the iceberg. I think having over 200 language combinations is a great calling card for the company.
You work in services, which demands precision, planning and accuracy. How would you describe your own style? Do you like it when everything goes to plan, or do you prefer improvising?
Personally, I tend towards improvisation, though of course for me a certain level of planning is essential. In fact, I always plan the entire week in advance. I divide my days up into smaller time slots and each one is filled with some obligation or other. I simply couldn't imagine my job without this kind of planning. On the other hand, each day brings new challenges and unexpected situations, which means improvisation and creativity still make up most of my work.
Your job involves leading people, communicating with customers and suppliers. What do you like the most?
I've got a great team of people, and I owe them all a big 'thank you'. Without them we wouldn't be able to do the things we do. Being happy with my job makes me a lucky man, and I generally have a smile on my face. I enjoy keeping up with all the trends in our field, and I appreciate the opportunity to meet our clients in person. I prefer a more personal approach with the customer. Whenever I'm communicating with someone on the phone or electronically I like to picture their face, and I want them to be able to do the same.
Let's say you have on the table here an extensive manual for a complex space-flight navigation system and a thousand-page book of fairy stories for kids. Your job as director is to decide which text Aspena is going to translate. How do you choose? How do you approach an order?
Well first off, there are a lot of questions now floating around in my head. But I don't see any contradiction between these two translations – we're not some garage outfit, so I see no reason why we can't do both the children's book and the navigation system manual. The expertise required by any translation means using different translators. And the approach to the order also needs to be completely different. The beauty of translation is that every type of project requires a different approach, a different type of preparation. But the customer needn't worry: we have the experience required that enables us to go through with them the entire project and then propose the optimal solution.
What does the ideal translator look like, in your view?
First and foremost they need to be professional. An excellent knowledge of a foreign language is not enough. The ideal translator must have a thorough knowledge of the field in which he or she translates. But even that's not enough. It's so important that they stick to deadlines, keep in constant communication with us, and keep to the project timetable that we agree to at the outset.
Can you recall any odd or standout customer orders or requirements—something that came as a genuine surprise?
I've experienced a lot of unusual orders. One customer wanted an express translation of 2 million words in 14 days. Despite the complexity of the project, however, by setting up a special translation process we dealt with it admirably, handed it over on time, and the customer was extremely pleased with the result.
What do you see as being the new trends translation and interpreting? What's been preoccupying your attention recently?
For a long time now, translation has been more than moving words from one piece of paper to another. Current trends include CAT tools, machine translation and post-editing, and also the use of server solutions. I'm happy that Aspena is able to move with the times, and can offer customers even those more technologically demanding solutions. But I mustn't forget to mention the most important trend, one that I hope will continue for a long time to come. I mean personal contact with the customer. I don't want to be 'simply' supplying translated texts. I want our customers' clients to get a perfect grasp of our customers' message. I want our customers to 'Be Understood'. That's the direction we'll continue to take in future.  
Finish the sentence: If I weren't the director of an Aspena branch I'd like to be…
If I weren't a director at Aspena, I'd try to become a director at Aspena!