Aspena has a new owner. Jakub Čapek, Aspena's Executive Director, has become a partner.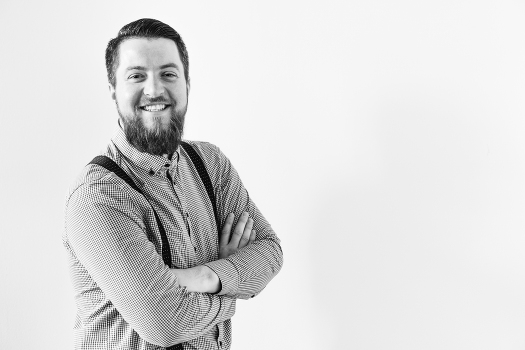 Jakub Čapek, Aspena's new co-owner, has been with the company for 8 years. He joined Aspena as a branch network director and soon became the director of the sales department. He has been managing the company in the position of Executive Director for 5 years, now as a partner.
Mr Čapek, what was behind your decision to become a partner at Aspena?
When the founder of the company, Petra Cupáková, offered me a stake in the company, I did not hesitate. During my time at Aspena, I have come to understand that it is a modern, dynamically developing company that offers cutting-edge products. I couldn't refuse Aspena's success, which is built on values that I recognise. Aspena thrives on experienced employees, a quality base of thousands of translators, interpreters, graphic designers, copywriters and many other specialists who are a pleasure to work with. I enjoy working with customers coming from all over the world.
What led you to the field of translation?
I got into the field of translation more or less by accident. I started out in a mapping and surveying company, where I hardly came into contact with translation. In 2015, when I was deciding what to do when I returned to the Czech Republic after a three-year assignment abroad, I discovered Aspena's offer for a branch network director. As the position was related to the business and business management I was involved in, the position offered was very interesting to me, also due to my experience in business abroad.
What do you find interesting about translation and why do you see it promising?
This industry is very dynamic. The development of technology provides, even for a seemingly traditional field like translation, room for technological innovation and innovative practices. Aspena is keeping up with the latest trends, undergoing constant technological transformations and moving towards total digitalisation.
Keeping pace with the latest trends is made possible above all by our own technical development department. This department not only develops and modernises implementation processes, but also comprehensively prepares new product lines, which we are gradually integrating into our offer to customers around the world.
Today, I can confidently say that we are one of the technological leaders in the industry and are able to deliver language solutions to our customers with the quality and speed that the current times demand.
It is also interesting to note that our industry has long since ceased to be just about translation and interpreting. We provide many other add-on services such as content enrichment and collaboration on projects for learning systems and artificial intelligence.
What are your plans for Aspena in the future?
We plan to continuously expand our portfolio of technology solutions. We want to continue to offer our customers the best that they can get in the translation industry and to strengthen Aspena's position in the Czech Republic and Slovakia as well as in foreign markets.
Aspena's main focus in international trade is currently the United States, where we are able to compete with significantly larger translation companies thanks to our strong project and technology background.
Interested in learning more about Aspena or want to try our products in your own projects? Use fast inquiry or contact sales@aspena.com. Our experts will be happy to advise you and create a translation solution tailored to your needs.